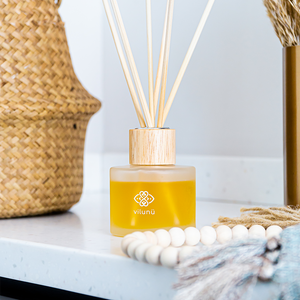 Jasmine & Cinnamon
Reed Diffuser 135ml
Jasmine & Cinnamon takes you back to dusk, where the aroma of jasmine flowers in full bloom, wafts through the island.
Inspired by the Maldivian tradition of weaving Jasmine into the braids of our hair, the spicy warm aroma of cinnamon bark and the sweet floral notes of Jasmine blossoms creates a modern twist that is uplifting and balancing.
The floral and spicy-sweet blend is warm, cosy and calming.
Lasts up to 8-12 weeks in the average space
For maximum effect, please flip reeds once every week
Unscrew the cap, remove the seal insert, and screw the cap back on. Then insert your reed sticks into the diffuser bottle according to how strong or subtle you want your scent. Ensure bottle is placed on a stable surface to prevent accidental spillage. Do not place on polished, painted or plastic surface. Wipe surface in case of spillage. Wash your hands after handling.